So I'm supposed to be studying for Media Studies.
But pfffffft. I've given up.
Since me and Arna have decided to flunk the
make-your-own-flippin-movie assessment,
i guess its fair to say that studying for it doesn't
make up for anything anyway.
So i got her to recommend me some good fashion blogs
to pass my time. haha. STUDYING?!
She was only too happy to hand over a LOOOOONG
list of NYC based edgy fashion blogs over a discussion
of our future opshopping trip. heh.
SHE HAS GOOD STYLE!
and now, all thanks to her,
its rekindled my obsession for NYC.
(My obsession started with Gossip Girl and
all its lavishness. sigh, Damn you rich socialites.)
Now I want this sooooooooo bad!
Im not usually big on the pink,
but the hot pink&black combo = ELECTRIC <3
Alexander Wang Boyfriend Blazer w/ geometric cutout.
perfect on every level.
good length and slouchiness. and also roll up sleeves! :]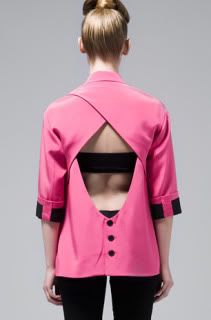 .. and then we meet the geometric cutout.
TO. DIE. FOR.
I want I want I want it!
So whoever feels charitable enough to buy me
one of these at $599 (USD that is) a pop,
**
i shall love you for all eternity!
and might as well throw in a $76 white pocket tee.
ahhh.
in desperate need of RETAIL THERAPHY!
Damn you exam stress.
**
immunity for the boyfriend.
he's loved already for being so amazinglyawesome :]