So....
Im currently in KL (as per usual, haha..)
or
KOALA LUMPERR
as Rhys pronounces it,
haha gotta love it.
Gawd, I've missed this place.
Missed the bustling sounds of the city past 7 bloody o'clock
cause the shops are actually still open.
Missed the pungent Hukkah pipe smoke smells that fill the air
as you stroll down the streets.
Missed the hot, clammy weather that makes your clothes stick to
you like your second skin.
Missed the bright lights that makes this city what it is.
I know its only been like 4 months, but Im knee-deep in nostalgia.
Its soooo good to be back.
And yes, as you all know, old habits die hard.
So for all this time i've been in KL,
which is pretty much 2 and a half days,
I've been SHOPPING, EATING, and TALKING BULLSH*T.
(Yes, i have a tendency to ramble on.. YOU GOT A PROBLEM WITH THAT? haha)
AND I MET SYNNNNNYIIIII!!! :)
I'm probably singlehandedly improving Malaysia's economy too...
having spent a whopping RM5,500++ within 50 hours. haha. terrible, i know.
(Topshop will be the death of me, I swear. haha)
But on the plus side, I got the DSLR camera I've always wanted, and then some.
haha.
Meet Debbie's Canon EOS 500D.
Its the sex.
Seriously, I mean it this time. haha.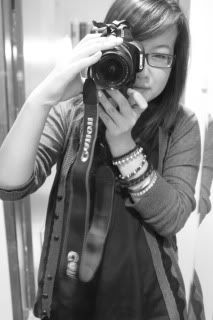 Yes, I'm absolutely in LOVE with the monochrome. I'll probs be shooting like this for quite some time.... hahaha!
And some pics I took of Preston, a talented photography enthusiast, my extremely patient mentor, who just happens to be my cousin. hahahah. And yes, we both have the same camera. He encouraged me to get the same model so he can teach me how to use it properly. What a darling :D (and so I treated him to New Moon. lol. Just sat there cracking up at Eddi-Poo :P) And you'll also realise that photos of him are not monochromatic, he would kill me if I did. teehee!
The beautiful Sim Syn Yi, and Krispy Kremes on our little outing. It was GREAT to see you again, my dear :)