Im getting a pair of DOCS!!
woop woop :)
bwahahahahahahahahaha.
I know right, they're so big. chunky. and ugly.
But hey. I fell in love with them when
I first saw them on some fashionblog.
And on Agyness Deyn.
How many pairs does that girl own? GEEZ!
So, I spent aaaaaaaaaaaaaaaaaages
debating between the black and rose pink.
BLACK
Pros:
-Not as ostentatious.
-Goes with practically anything.
-Black is classic <33>
-My dad could wear them after I'm over them??? (lol.)
Cons:
-Theyre black.. so.. expected.
-They would look weird with opaque tights.
-You can buy them anywhere, everyone else has them.
-Ive got too much black stuff.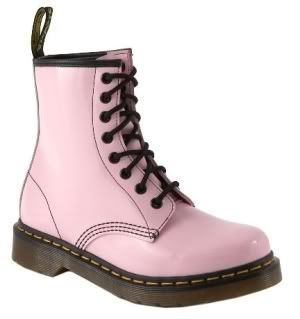 Pros:
-Very hard to find. Not manufactured anymore.
-Bright, breaks up a black-on-black ensemble.
-Nobody in NZ has them! HOHOHO!
-They look so amazingly awesome with opaques
and shift dresses.
Cons:
-I might grow out of this rose pink phase.
-Too attention-grabbing.
-My dad would NOT wear these. haha.
-I DONT EVEN LIKE PINK?!

lol. after weeks and weeks of heated debate,
I've decided to go with the pink ones.
haha I guess Im ready for a change.
Fingers crossed they get delivered in time,
and then I might be able to wear them in
Paris/Amsterdammmm! :)
Yus-ness.
And in the meantime, I shall be dreaming of...

&&pinkdocs.ruletheworld!